Advanced Facebook Marketing
Advanced Facebook Marketing: Cookstown Enterprise Centre, Friday 21st June 2019 @ 1.30pm.
This exciting workshop will be delivered by Peter McNicholl, who took Galgorm Resort to the number 1 hotel in Ireland on Facebook and number 2 in the UK (out of 30,000+ Hotels) as their first Digital Marketing Executive.
Since then Peter is followed by over 5,000 people across the UK, trained over 250 Business on how to run their Facebook and Instagram Adverts and been a guest speaker at The Power Of Video in the Waterfront and also the Irish Hotel Federation Conference in Kilkenny.
Tickets are going fast so book early to avoid disappointment. You can attend in the morning Workspace Enterprises in Network Personnel Office Magherafelt or in the afternoon at Cookstown Enterprise Centre.
https://www.eventbrite.co.uk/e/advanced-facebook-marketing-getting-it-right-tickets-63332454075
The Co-Innovate Programme supports SMEs within the manufacturing and tradeable services sectors. Through tailored advice, expertise and interactive workshops.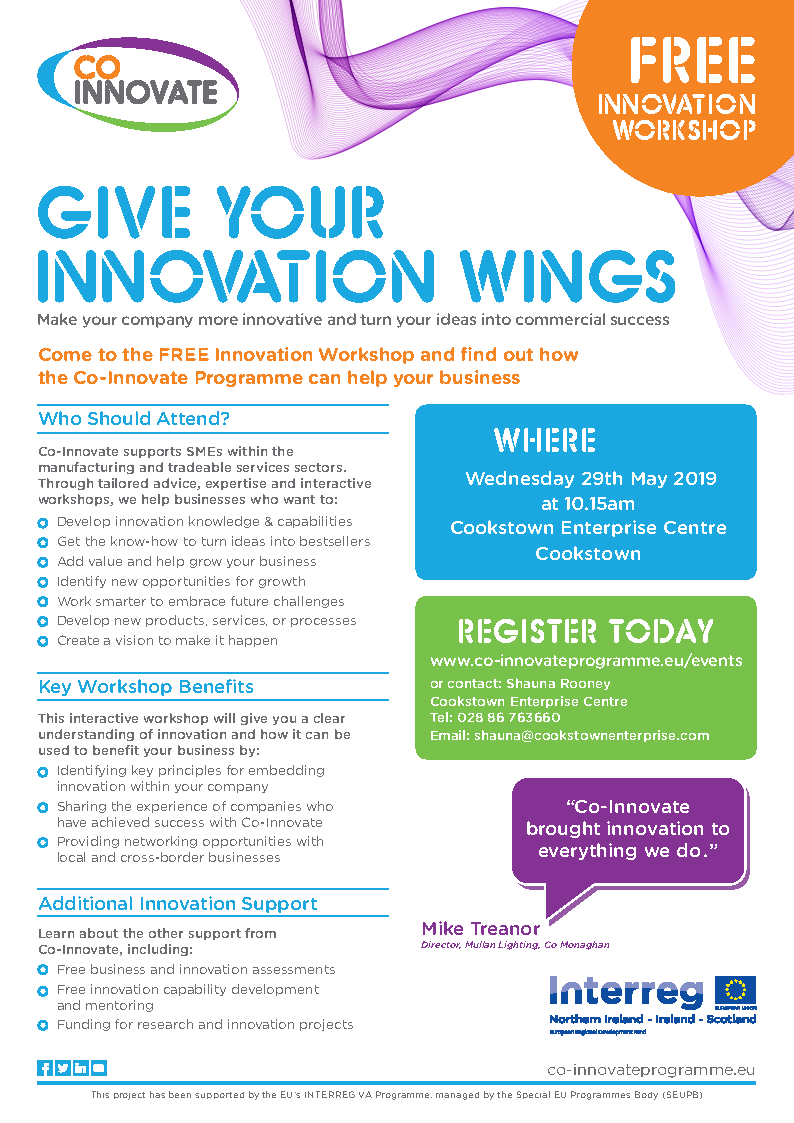 Register your interest here: https://co-innovateprogramme.eu/events  for the Cookstown Workshop.
This interactive workshop will give you a clear understanding of innovation and how it can be used to benefit your business.
Well done to our Go For It client Serghie who spotted a gap in the local market and went  on to establish a very successful, innovative business Ulster Concrete Pumping. Go For It delivered in Mid Ulster District Council by Cookstown Enterprise helped Serghies business idea to get up and running and he has already surpassed his initial financial projections!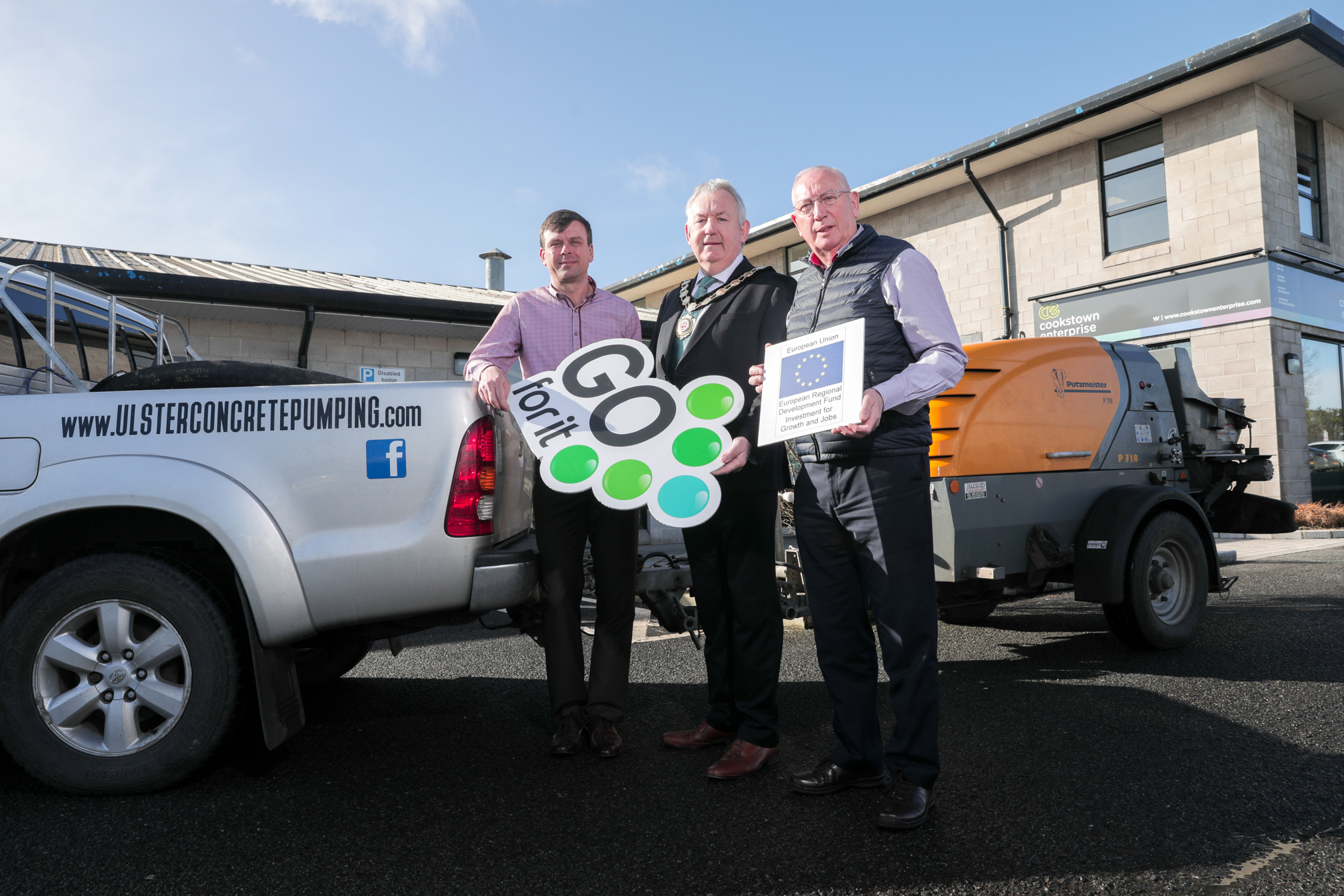 Serghei Hamchevici, originally from Moldova, made the life changing decision to turn his back on long-term employment and chase his dream of running his own business, after spotting a gap in the market for a specialist concrete pumping company.
Serghei launched Ulster Concrete Pumping in May 2018, after going through the Go For It Programme and raising the necessary capital required to purchase a specialised mobile concrete pump.
Serghei explains:
"I was inspired by my wife, who recently took over a thriving clothing alteration and dry-cleaning business. I had worked part-time in the concrete pumping industry, alongside my full-time job, and saw a niche in the market to use small portable pumps, which could be used for day to day building and domestic needs such as driveways and house foundations."
With less than one year of trading under his belt, Ulster Concrete Pumping is operating ahead of projected sales estimated in the business plan which Serghei refers to as his 'route map' to monitor the progress of his business.
"Without the Go For It programme, turning my idea into a feasible business would not have been possible, their help and support was essential. I sat down with my business advisor from Cookstown Enterprise Centre and they helped me to put together my business plan. We looked at everything from finance to forecasting. It really opened my eyes to what was involved.
"I also attended a range of free workshops provided by the programme, including business planning, market research and financial forecasting. These were fantastic and really helped me to learn and grow as a new business owner."
The Go For It Programme is delivered free of charge by a team of experienced business mentors through Northern Ireland's wide network of enterprise agencies. It provides expert advice and help to develop a business plan, helping entrepreneurs turn ideas into commercial businesses.
Chair of Mid Ulster District Council, Councillor Sean McPeake said:
"I was delighted to meet Serghei and hear about his thriving new business, he is clearly reaping the benefits of support from the Go For It programme. Mid Ulster has a strong entrepreneurial culture and it's one of the Council's strategic priorities to help maximise opportunities to create and grow district wide businesses and investment. I wish Serghei every success in growing his new venture".
Jim Eastwood, General Manager of Cookstown Enterprise Centre on behalf of Mid Ulster District Council said:
"Serghei knew exactly what he wanted to do and the equipment he needed to make it a success. His Business Advisor, Shauna Rooney, mentored him in the process of preparing a business plan, focusing on areas such as market research, financial planning and marketing.
"This provided him with a clear plan for the future and helped him secure the necessary Enterprise Northern Ireland loan that transformed his vision into a reality. It is fantastic to see Serghei's business grow and thrive and we wish him every success for the future."
If you have a business idea you'd like to develop or if you are thinking about starting a business contact the Go For It team on 0800 027 0639 or visit: www.goforitni.com.
Mid Ulster District Council along with enterprise partners in the council area are hosting a Mid Ulster New Business Showcase giving new local businesses a platform to raise their profile.
Through the Go for it programme we have aided hundreds of local businesses to get up and running and will be featuring over 20 of these at our first ever market-style showcase as well as encouraging possible new entrepreneurs in the local area to think about self-employment.
Come along to show your support to these new local businesses where they will be offering special discounts on the day, and if you are thinking about starting your own business we will have business advisors and representatives from funding sources on hand to talk you through the steps you need to take.
Come along to support local and to get your questions answered about venturing into self-employment.
Free prize draw to win a hamper full of local products!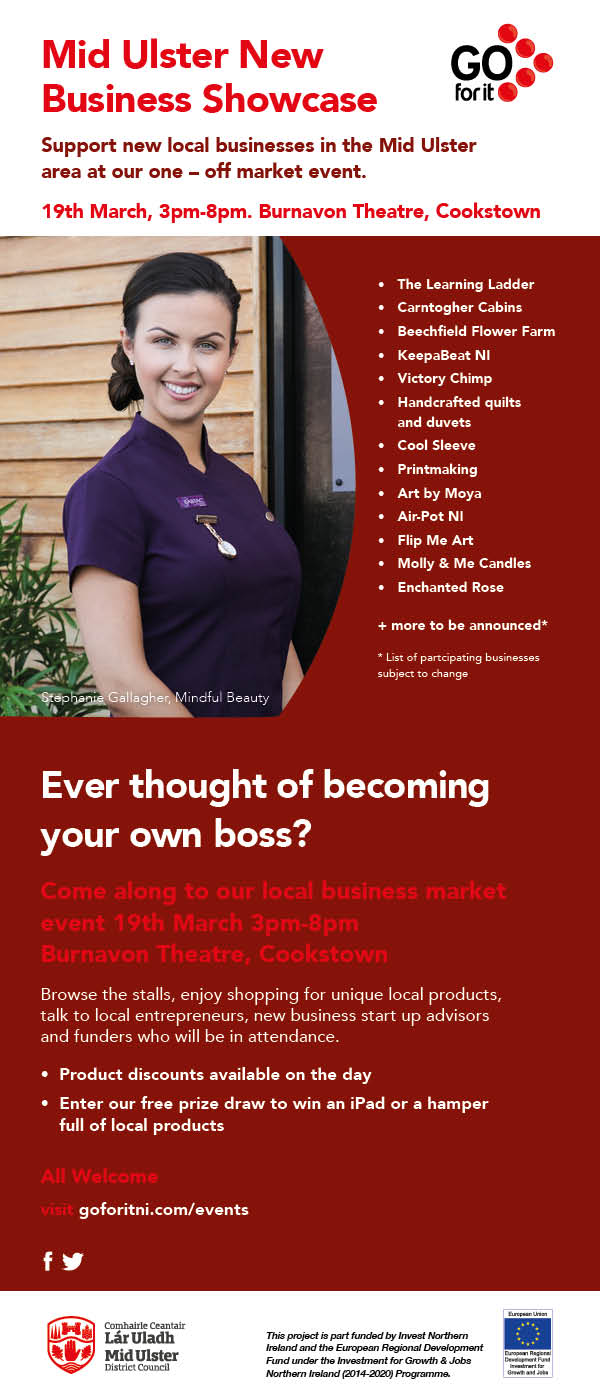 The search is on to find Northern Ireland's greatest innovations with commercial potential.
Invent is a unique in-depth competition that is open to Northern Ireland
residents (individuals or teams) with an innovative proof of concept idea they are passionate about.
Your product should fall into one of the 6 categories:
Creative Media & Consumer Internet
You will gain high profile exposure, validate your idea, unlock a quality
network of influencers and be in with a chance of winning a share of the £33,000 prize fund.
It's time to put your innovation in the spotlight!
Apply online at www.invent2019.co (Closing date 15th March)
For more information email jessica.caldwell@catalyst-inc.org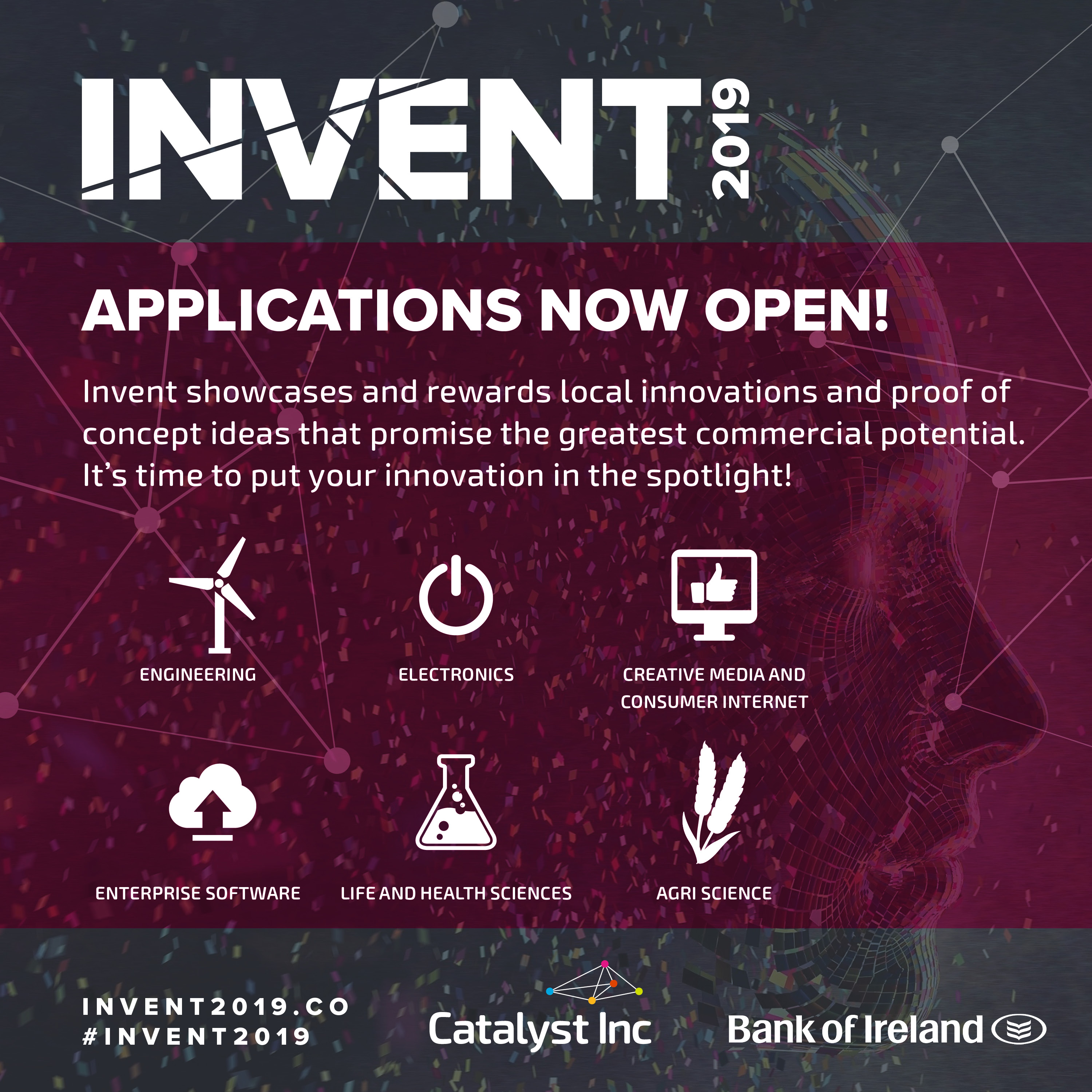 Exploring Enterprise  Programme
Cookstown Enterprise Centre is the local delivery agent for the Exploring Enterprise Programme within the Cookstown area.
EE4P is a Pre Start Enterprise Programme with the objective of increasing awareness and offering training and development to people looking to return to the labour market or potentially become an entrepreneur.
This programme is aimed at disadvantaged communities and underrepresented groups.  These groups include;
Disadvantaged Communities
Unemployed people on benefits (Job Seekers Allowance, Income Support, Employment Support Allowance, Disability)
Lone Parents
Women 50+
Young People (16-19 Not is Education, Employment or Training)
Economically Inactive
Working/ Studying <16hrs per week
What is it?  A free programme which:
Aims to help you into sustainable employment or self-employment
Offers mentoring and training at a pace specifically tailored to suit your needs
Helps you achieve a recognised qualification – Level 1 'Understanding Business Enterprise'
What's involved?
Pre-assessment meeting
3 business modules  February 2019 (* Dates to be confirmed)
3 workshops  February 2019 (* Dates subject to change)
Qualification in 'Understanding Business Enterprise'
Post assessment and advice on moving forward
For more information contact Shauna on 028 8676 3660 or email shauna@cookstownenterprise.com
This year Cookstown Enterprise made its annual Christmas donation of £250 to The Hub Cookstown and Air Ambulance N.I.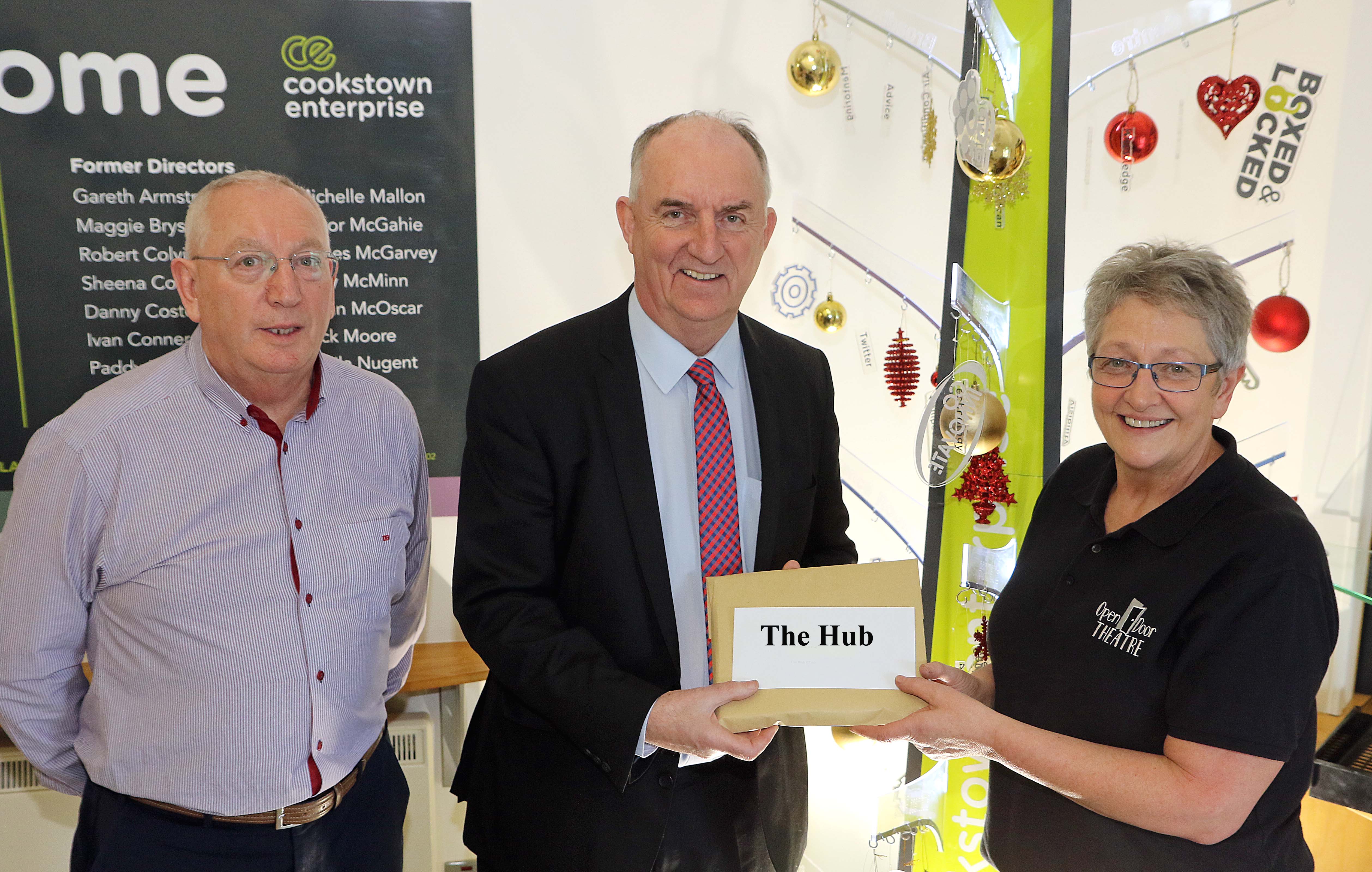 Picture (L-R) Jim Eastwood General Manager Cookstown Enterprise Centre, Trevor Wilson Chairman of Cookstown Enterprise Centre and Carol Doey from The Hub Cookstown.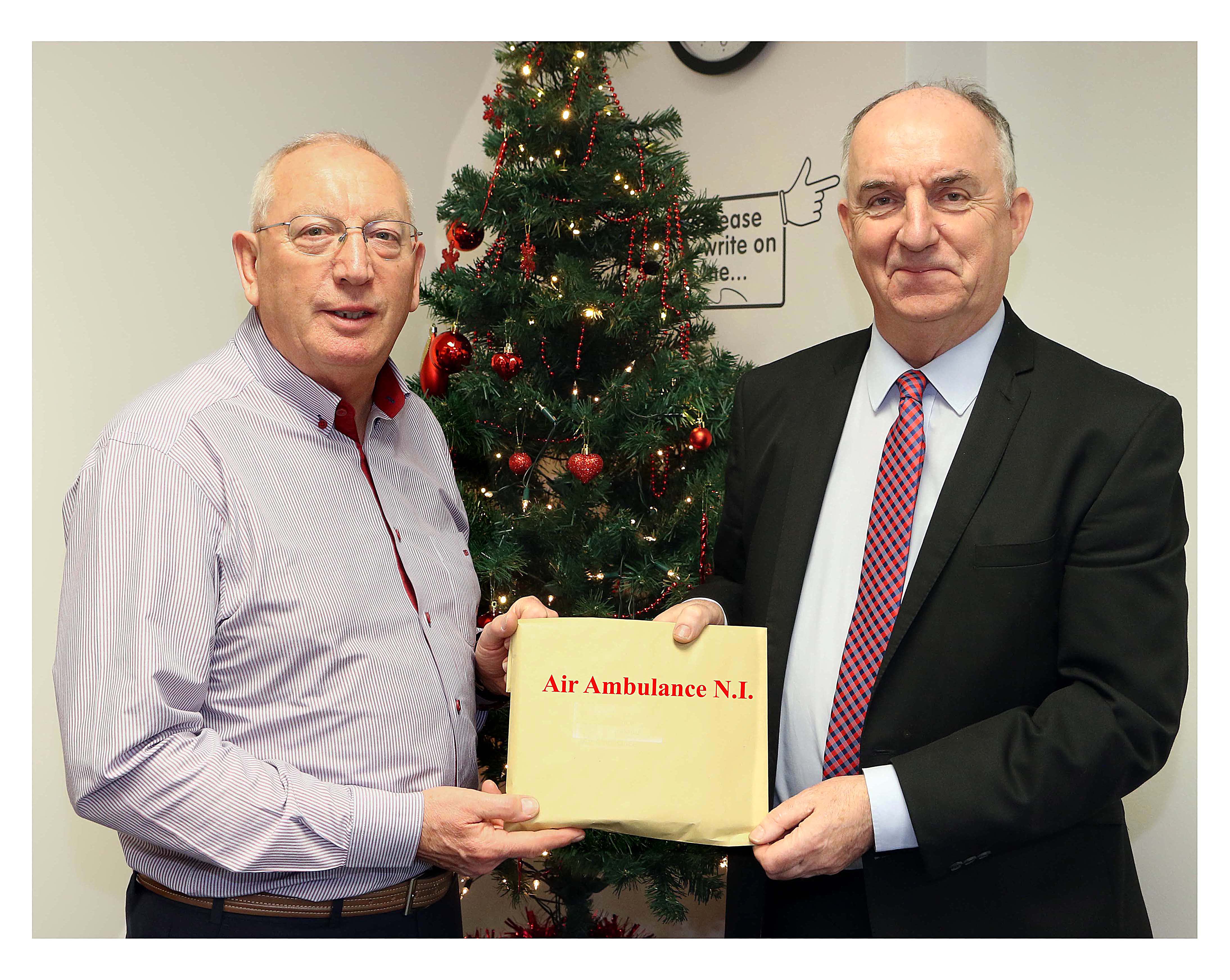 Picture (L-R) Jim Eastwood General Manager Cookstown Enterprise Centre and  Trevor Wilson Chairman of Cookstown Enterprise Centre with the donation for Air Ambulance N.I.
Are you thinking about starting a business in the Cookstown area?
Here is the perfect opportunity to find out everything you need to know about going self employed, or starting your own business – big or small!
Cookstown Enterprise Centre are hosting a drop in business information clinic on Tuesday 11th December 2018 between 2pm – 7pm.
No appointment necessary, drop in when suits you to meet our friendly and professional business advisors and discover the help that is available to you through the Go for it programme, which is provided in your area with thanks to Mid Ulster District council.
We will have a festive atmosphere with mulled wine and nibbles, as well as showcasing a selection of local businesses who have taken part in the Go for it programme in recent months.
For any questions or queries please contact Shauna : shauna@cookstownenterprise.com or call 028 8676 3660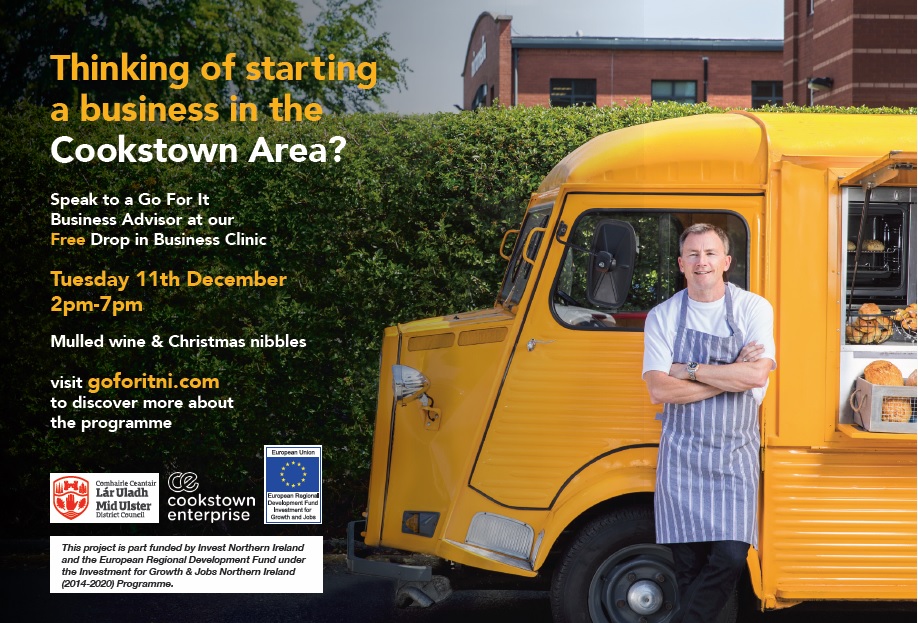 We now have a defibrillator fitted in a cabinet outside our building at Cookstown Enterprise Centre. This invaluable resource is now available 24/7 for the people of the Enterprise Centre and surrounding areas to make use of should they ever need it. Thanks to St Johns Ambulance for training our qualified staff on using the new equipment.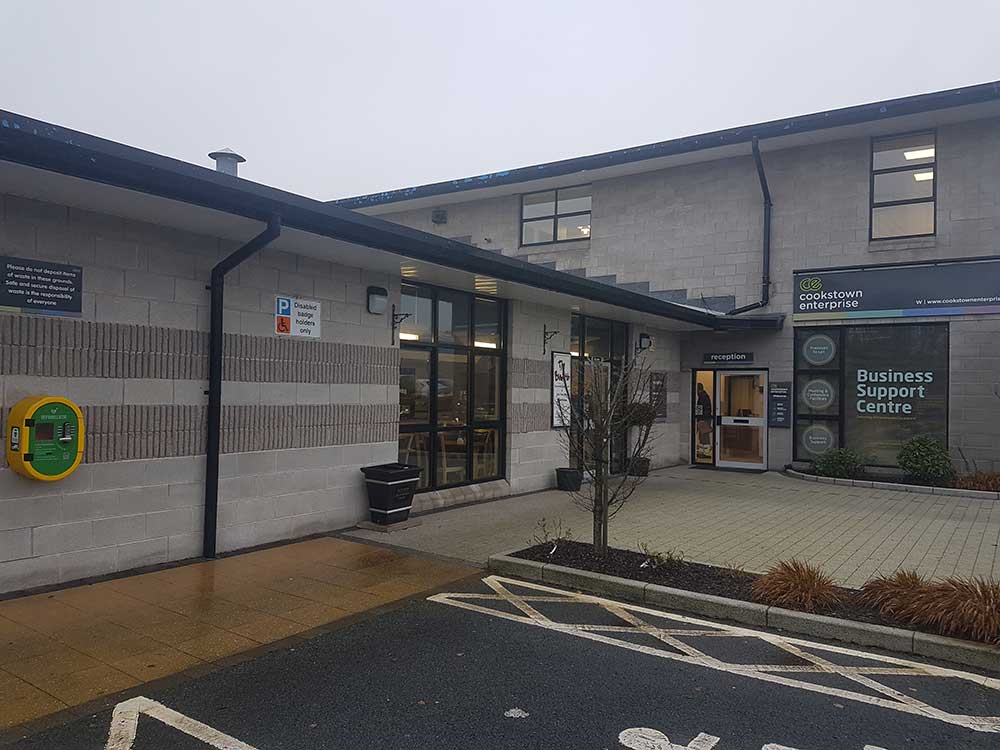 Success is where preparation and opportunity meet and here at Cookstown Enterprise we can help you to prepare for your first step into Self-Employment.
For more information contact Shauna on 028 8676 3660 or email shauna@cookstownenterprise.com