Focus on RSI: Healthy @ Huttons
Friday September 9th 2016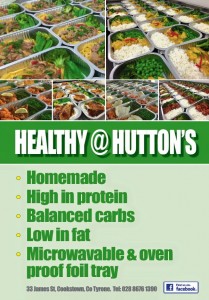 Gareth Hutton and Darren Warnock – Healthy @ Hutton's
'No more food prep, just heat and eat'. Healthy @ Hutton's produce and retail a wholesale range of healthy prepared meals, from their existing family business premises at Hutton's Butcher Shop, in Cookstown.
Their business presently targets weight loss clubs, gyms/sports clubs and convenience food customers – singles, busy professionals and the elderly.
Proprietors Gareth and Darren are confident that their focus, hardworking ethic and extensive experience will assist them in providing a superior product range and enable them to manage and develop their business successfully.
"Through the Regional Start Initiative you can access support to develop a business plan, one of the most important parts of setting up a new business. You will also receive mentoring from a business adviser who will guide you through your business plan and signpost you towards business start-up resources."