Coronavirus Business Support
This page helps businesses find out how to access the support that has been made available, who is eligible, when the schemes open and how to apply.
Support scheme
Support organisation
Bounce Back Loan | UK-wide

Government-backed loans for UK-based small and medium-sized businesses ranging from between £2,000 and £50,000.

Accredited lenders
Coronavirus Large Business Interruption Loan Scheme | UK-wide

Provides a government guarantee of 80% to enable banks to make loans of up to £25m to firms with an annual turnover of between £45m and £500m.

British Business Bank
£10,000 Grant for Rental Properties & Total NAV of £1,590 or below | NI only

£10,000 Small Business Grant for businesses who are sole tenants of a rental property, or who own and occupy a property with a total NAV of £1,590 or less

Department for the Economy (DfE), Land & Property Services (LPS)
£10,000 Small Business Support Grant Scheme | NI only

£10,000 grant available to Northern Ireland businesses eligible for the Small Business Rate Relief Scheme and businesses with a Total Net Annual Value of £15,000 and below, who currently benefit from Industrial Derating.

Department for the Economy (DfE), Land & Property Services (LPS)
£25,000 Grant for Retail, Hospitality, Tourism and Leisure Sector Ratepayers | NI only

£25,000 grant for Northern Ireland companies in the retail, hospitality, tourism and leisure sectors with a Total Net Annual Value between £15,001 and £51,000.

Department for the Economy (DfE), Land & Property Services (LPS)
Artists Emergency Programme | NI only

Award of up to £5,000 to support individual artists, creative practitioners and performers.

Arts Council of Northern Ireland
Sports Hardship Fund | NI-only

£2,000 small grant scheme for sports clubs and sporting organisations from the voluntary and community sector in Northern Ireland.

NOTE: Sport Northern Ireland has suspended new applications to the Sports Hardship Fund pending confirmation of additional funding.

Sport NI
Future Fund | UK-wide

Government loans to UK-based companies ranging from £125,000 to £5 million, subject to at least equal match funding from private investors.

British Business Bank
Business Rates Holiday | NI only

Three-month rates holiday for Northern Ireland non-domestic ratepayers (excluding public sector and utilities).

Land & Property Services (LPS)
Statutory Sick Pay Rebate | UK-wide

The UK government is to bring forward legislation to allow small and medium-sized businesses to reclaim Statutory Sick Pay (SSP) paid for staff sickness absence due to coronavirus.

HMRC
Self-Employment Income Support Scheme (SEISS) | UK-wide

Self-employed individuals or members of partnerships can claim a taxable grant worth 80% of your trading profits up to a maximum of £2,500 per month for 3 months.

HMRC
Support for Businesses Paying Tax| UK-wide

All businesses and self-employed people in financial distress, and with outstanding tax liabilities, may be eligible to receive support with their tax affairs through HMRC's Time To Pay service.

HMRC
Deferral of Self- Assessment Payment | UK-wide

The Self- Assessment payment on account, that is ordinarily due to be paid to HMRC by 31 July 2020 may now be deferred until January 2021.

HMRC
Coronavirus Business Interruption Loan Scheme | UK-wide

The temporary Coronavirus Business Interruption Loan Scheme (CBILS) supports small and medium-sized businesses with access to loans, overdrafts, invoice finance and asset finance of up to £5 million and for up to six years.

British Business Bank
Coronavirus Job Retention Scheme | UK-wideGovernment will cover 80 per cent of business staff wages, up to £2,500 per employee per month.
HMRC
VAT Deferral | UK-wide

The UK government will defer Valued Added Tax (VAT) payments due between 20 March 2020 and 30 June 2020. VAT refunds and reclaims will be paid by the government as normal.

HMRC
Covid-19 Corporate Financing Facility | UK-wide

The new Covid-19 Corporate Financing Facility (CCFF) means that the Bank of England will buy short-term debt from larger companies.

Bank of England
As more businesses become affected by COVID-19, there are various resources to help all businesses online. You can find out more at the links below.*
❗️Temporary Closure❗️
In line with the current Government advice, Cookstown Enterprise Centre will be temporarily closed from 23rd March 2020.
Staff are working remotely and can still be contacted by calling 028 86763660 or emailing info@cookstownenterprise.com
Please note access for tenant companies will continue as normal.
Stay Safe Everyone and Stay At Home!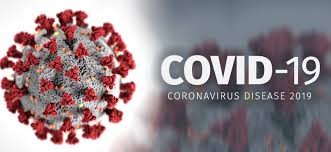 BUSINESS AS USUAL
Cookstown Enterprise Centre is fully aware of the current situation surrounding the COVID-19 outbreak and the sense of anxiety, fear & uncertainty on our health and welfare of the business community. These are tough times & we need to be vigilant.
We will continue to monitor and use advice and guidance from the Government, The Northern Ireland Executive, The World Health Organization and the Public Health Agency Northern Ireland to limit or prevent the spread of Covid 19 Corona Virus.
Appropriate precautions are being taken and good practice is being applied to ensure that the health and wellbeing of our directors, staff, tenant businesses, customers and other visitors is protected as far as possible.
Information notices on Covid 19 and prevention of its spread are prominently displayed throughout the building as well as reminders advising regular hand washing and sanitizing using the numerous sanitizing dispensers located in every department of the offices, conference rooms and communal areas.
We will continue to monitor the situation and we will be following the latest advice from government and health professionals.
We appreciate your co-operation and understanding during this time.
5th February 2020 @ 5:00 pm

 – 

7:00 pm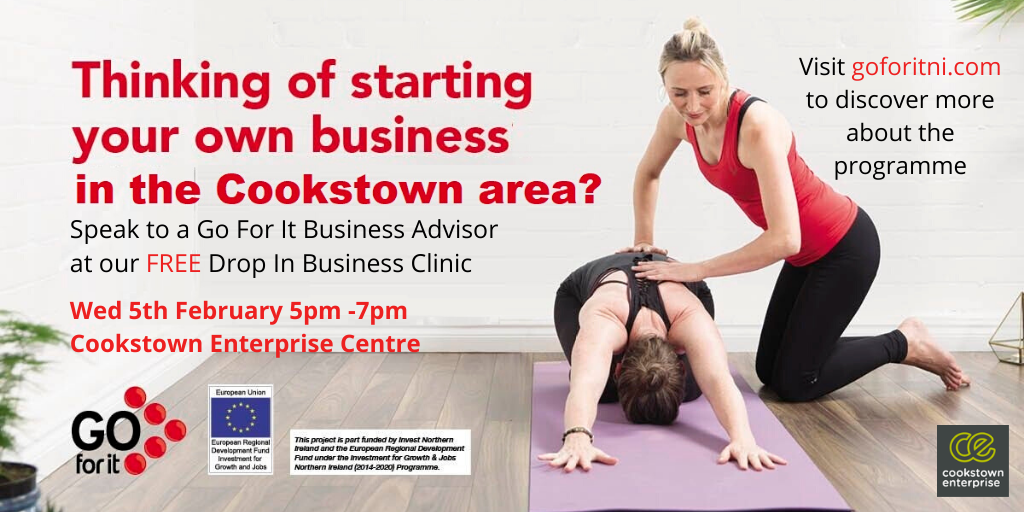 Thinking of starting a business or becoming self-employed? Start here – meet like minded people and business advisors ready to support you.
About this Event
DROP IN INFORMATION SESSION
Call in to our FREE drop in information evening Wednesday 05th February 2020 anytime between 5.00pm – 7pm to meet the local business advisors in your area and to find out more about how Go for it can help you to drive your business idea forward.
The Go For It programme provides individuals in Northern Ireland who are thinking of starting a business, with step by step advice and mentoring.
The programme focuses on guidance to help you produce your own business plan, which is often described as a 'roadmap' to success for the first few years in business.
Empower yourself with the information you need to take the next steps and drive your business dream forward.
And remember we're for any business ideas. Big or small.
Go for it is a free programme open to individuals over 16 years of age. Individuals aged between 16 and 18 are eligible to participate but will require parental/guardian approval. However if the individual is aged 16-18 and is still in full-time education they will be ineligible to participate in the Go for it programme but we can signpost to other organisations. The Go for it programme is open to new businesses or businesses trading 6 months or less in Northern Ireland.
Cookstown Enterprise Centre recently made its annual Christmas donation to two locally based charities.
This year Cookstown Enterprise donated £250 to Club Angels Cookstown and £250 to O40 Cookstown. This was in lieu of sending Christmas cards.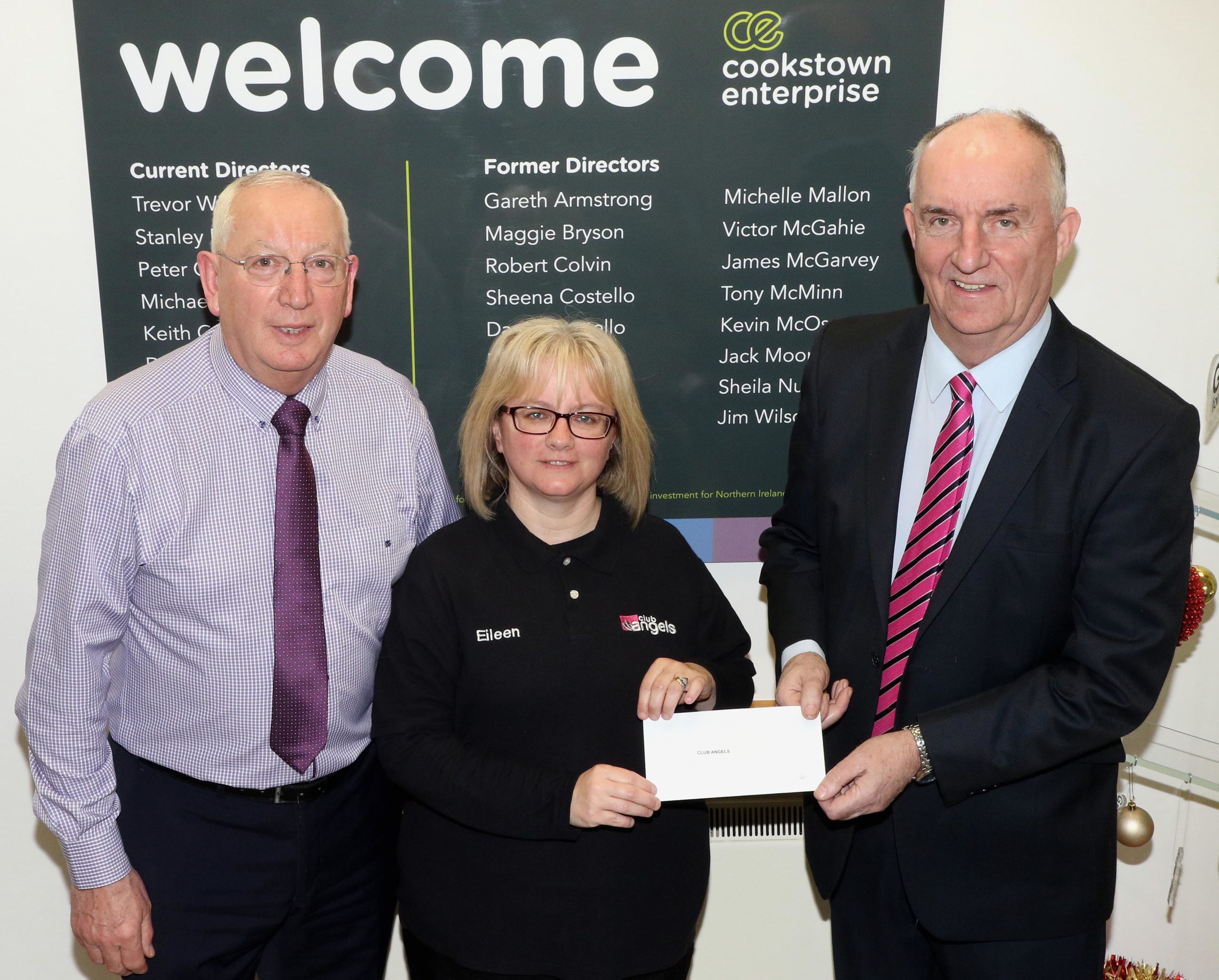 Trevor Wilson Chairman of Cookstown Enterprise Centre presents a cheque to Eileen McGuckin representing Club Angels Cookstown. Jim Eastwood General Manager of Cookstown Enterprise Centre is also pictured.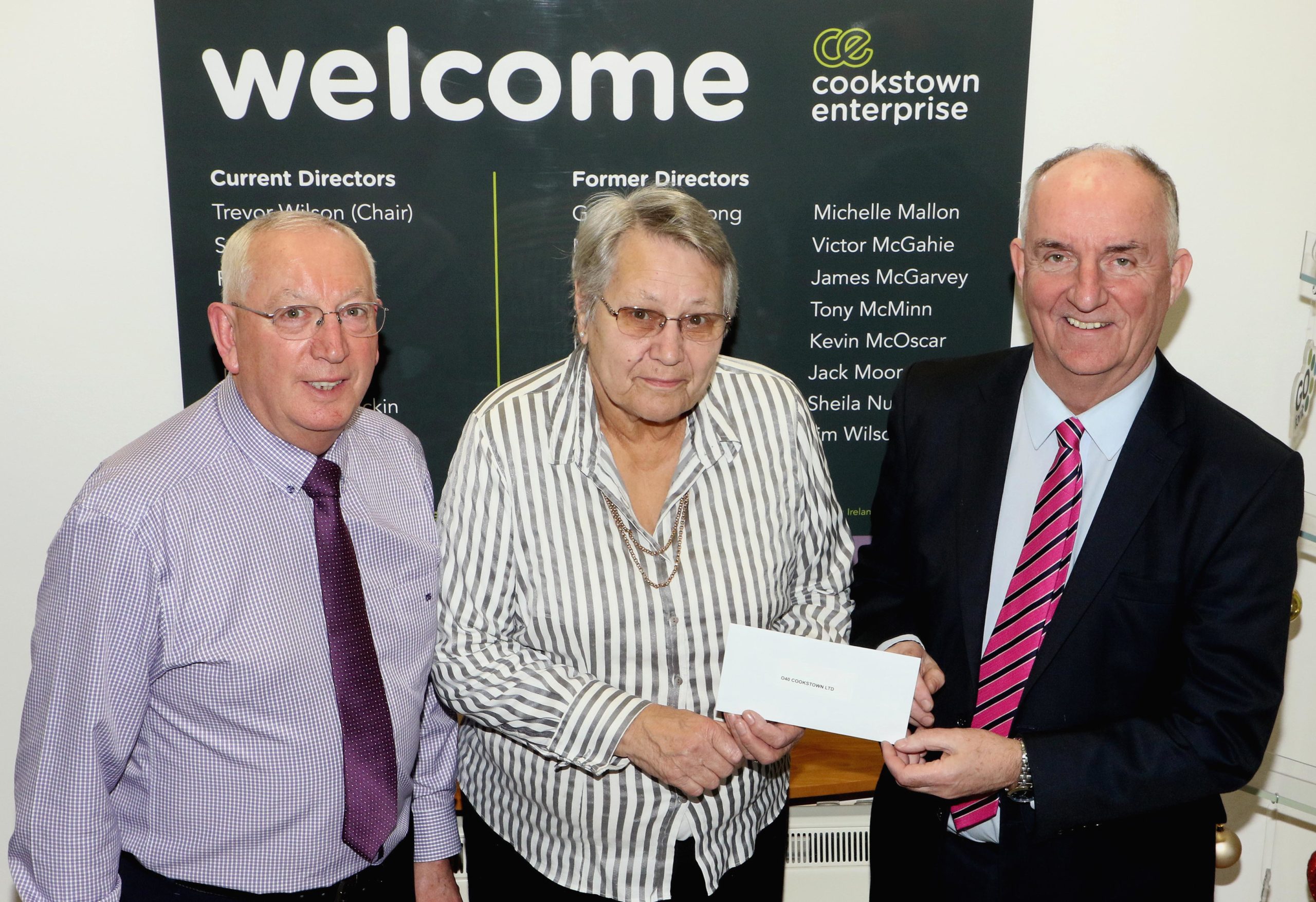 Trevor Wilson Chairman of Cookstown Enterprise Centre presents a cheque to Margaret Gilbert, Chair of O40 Cookstown.  Also pictured is Jim Eastwood General Manager Cookstown Enterprise Centre.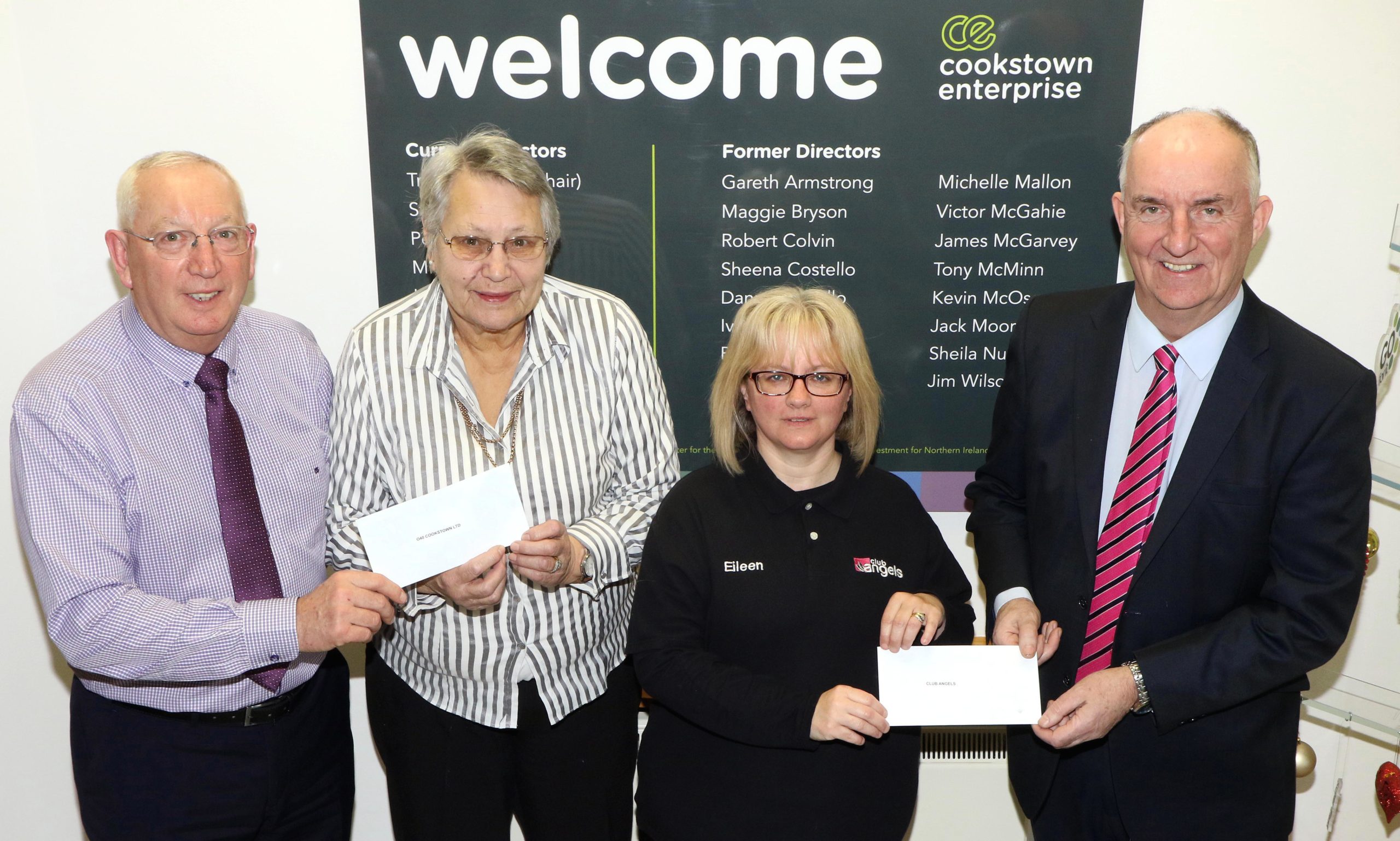 On behalf of the Board of Directors, Trevor Wilson Chairman and Jim Eastwood General Manager of Cookstown Enterprise Centre present a £250 cheque donation to Margaret Gilbert, O40 Cookstown and Eileen McGuckin of Club Angels Cookstown.
Mid Ulster District Council and partners are holding their first ever Enterprise Week  from 18-22 November 2019.
There's over 25 quality business events taking place throughout the district during the course of the week.
These events are suitable for businesses from all sectors and sizes, from start-up through to growth.
Mid Ulster businesses are encouraged to come along and benefit from the wide range of FREE events being held on their doorstep.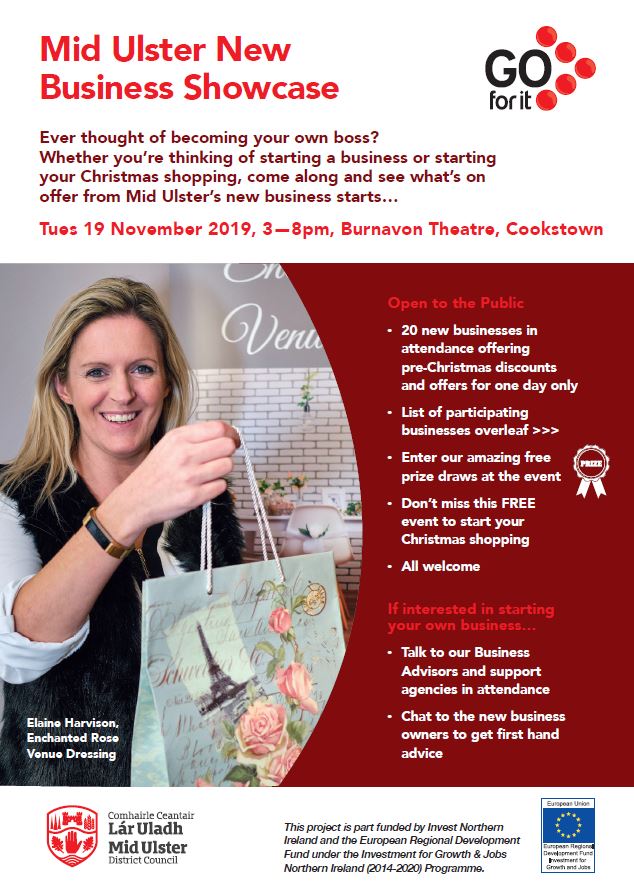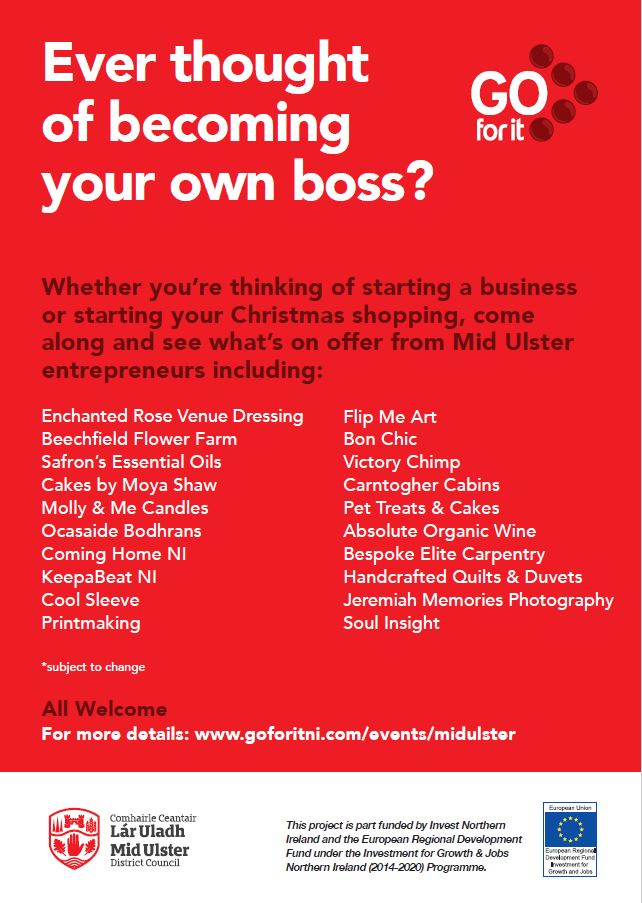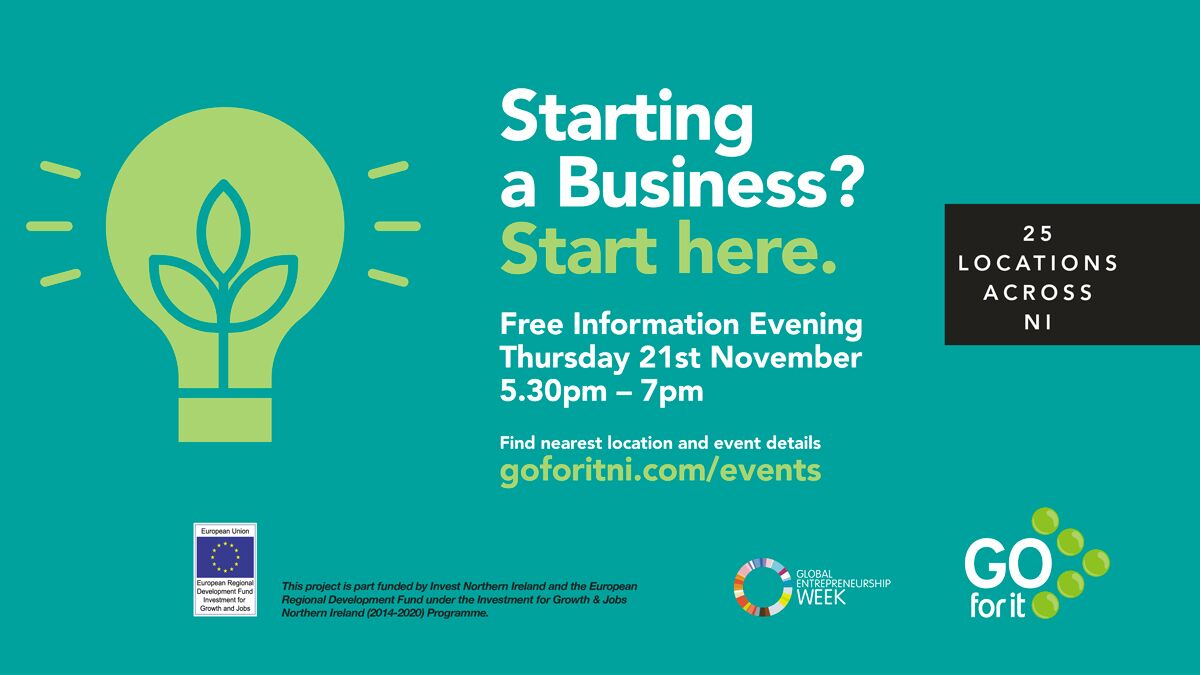 Cookstown Enterprise Centre
"Your Business Matters"

Are you a new or existing business?
Want to avail of our monthly "Business Advice" Drop in Clinic?
Free & confidential informal appointments available.
Discuss your general business matters with topics such as finance options, employment, marketing etc.
Everyone Welcome.
For further information please contact us on 028 8676 3660 or email info@cookstownenterprise.com
| | |
| --- | --- |
| Title: | Brexit Drop In |
| Date: | 1st October 2019, 8.30am – 12.30pm |
| Venue: | Cookstown Enterprise Centre |
| Price: | FREE |
About the Event
InterTradeIreland in conjunction with Cookstown Enterprise Centre, are hosting an information session allowing local businesses to avail of a one-to-one consultation with a subject matter experts on issues in the areas of customs, tax, supply chain and logistics to prepare for different trading procedures post Brexit.
Businesses can also chat with the InterTradeIreland staff to avail of the practical advice and supports available. Attendees can apply for Brexit support vouchers, check product tariffs , avail of online learning on 'Brexit & Beyond' and get general advice.
Call in for a chat and see how InterTradeIreland can support your business.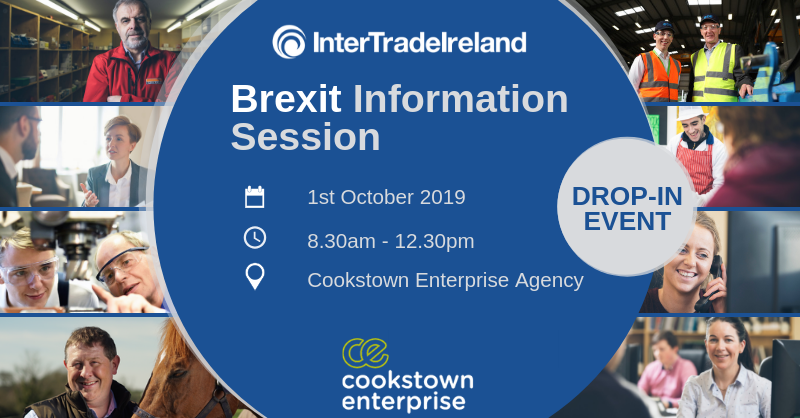 We are now recruiting for our Exploring Enterprise Programme!
It is a FREE programme which provides an insight into starting a business or allows you to take the first steps towards gaining employment.
You will work towards attaining a CCEA Level 1 Qualification in "Understanding Business Enterprise" whilst gaining new skills in: *Marketing * Financial Planning * CV Design / Development * Job Search.
This is an Enterprise Northern Ireland initiative which is part funded through the Northern Ireland European Social Fund Programme 2014 – 2020, the Department for the Economy, Local Enterprise Agencies and Mid Ulster District Council.
If you, or some-one you know is studying or working less than 16 hours per week and would like a helping hand to improve their employment prospects as well as exploring potential self-employment options then this course is for you.
Limited spaces available. Register your interest by calling Shauna on 028 8676 3660 or email shauna@cookstownenterprise.com