Cookstown Enterprise welcome new tenant Feet First Podiatry
Ruth is a new tenant to Cookstown Enterprise Centre and proprietor of Feet First Podiatry. She is a member of the society of chiropodists and podiatrists and has recently qualified with BSc Hons in Podiatry.
With the help of her local enterprise agency and her appointed business advisor she created a business plan and is now practicing podiatry from her newly acquired unit.
"When I first graduated I was doing home visit appointments only and then I found the perfect unit in Cookstown Enterprise Centre to open a practice at. The treatments that I provide are hard skin and corn removal, nail care, bio-mechanical assessments, diabetic foot health checks and foot care advice. I look forward to starting my new venture here!"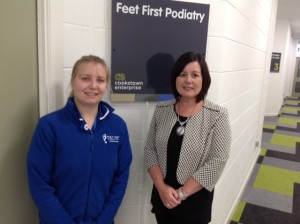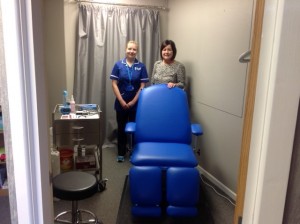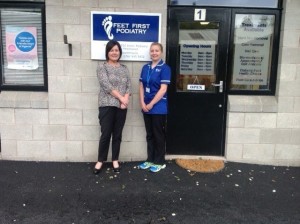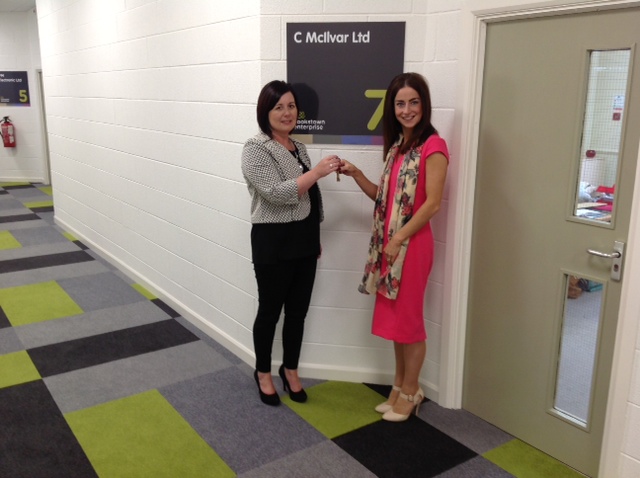 C. McILvar Ltd is a small but leading chartered planning consultancy firm which began operations in September 2013. The company was formed by Mrs Carol Gourley (nee McILvar) whom after spending 10 years of her professional life working within N.I's private planning sector decided to establish her own practice.
In 2013 when public confidence in spending remained low, Carol recognised a niche in the market for a trustworthy consultancy service which would provide chartered planning intelligence for architectural practices, applicants and developers. At a time when economic growth remained sluggish after the recession and the challenges of reduced public monies and elevated inflation had taken their toll, Carol identified that opportunities existed to provide expert but reasonably priced planning intelligence for architects, developers, farmers, renewable energy companies and the general public.
Carol, a fully chartered and a professional member of the Royal Town Planning Institute has worked endlessly over the past 3 years to earn a reputation for integrity, intelligence, and experience and most importantly, delivering results. Evidence of this can be seen by her wide portfolio of clients and the repeat business she continues to generate.
C. McILvar Ltd provides high quality advice and practical solutions on all planning matters working within Northern Ireland's complex, multifaceted planning sector.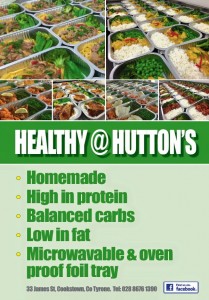 Gareth Hutton and Darren Warnock – Healthy @ Hutton's
'No more food prep, just heat and eat'. Healthy @ Hutton's produce and retail a wholesale range of healthy prepared meals, from their existing family business premises at Hutton's Butcher Shop, in Cookstown.
Their business presently targets weight loss clubs, gyms/sports clubs and convenience food customers – singles, busy professionals and the elderly.
Proprietors Gareth and Darren are confident that their focus, hardworking ethic and extensive experience will assist them in providing a superior product range and enable them to manage and develop their business successfully.
"Through the Regional Start Initiative you can access support to develop a business plan, one of the most important parts of setting up a new business. You will also receive mentoring from a business adviser who will guide you through your business plan and signpost you towards business start-up resources."
MG Pro Events provide a Golf Pro Shop, Golf Tuition, Golf Trolley Hire and also coordinate the annual Irish Junior Open event at Clandeboye Golf Club in County Down.
Clandeboye is one of the top golf clubs in Ireland and to compliment this they have their new professional shop established by Michael Gallagher, which is up there with the best in the country. They cater for all ages and price ranges as well as stocking leading brands including Calvin Klein, Galvin Green, Oscar Jacobson and many more. They are the only shop to supply Clandeboye Golf Club and Irish Junior Open crested merchandise. Michael describes his business venture are "Enjoying and fulfilling!"
"The Regional Start Initiative was recommended to me as a way of starting the business. Creating a business plan is a very time consuming and complex process. Lois was hugely supportive throughout the course of the programme and continued to provide advice when needed."
"I'd highly recommend anyone with an idea for a business to get in touch with their Local Enterprise Agency and Council."
We are now recruiting for Exploring Enterprise 3 Programme.
This is a pre-start programme which will support activities to extend the employment opportunities of unemployed, long-term unemployed and inactive people by helping them to enter, remain and make progress in sustained employment.
There will be a focus on people with disabilities and health conditions, lone parents, older workers, young people not in education employment or training, women and people with low or no qualifications.
Ultimately, EEP3 is designed to fill a gap in the provision of enterprise support by addressing the needs of people who are not yet ready to progress to self-employment ad operates as a mechanism to develop a latent pool of entrepreneurship talent within NI's most deprived communities / groups.
We will provide accredited training and development to participants through the network of Local Enterprise Agencies. Participants do not need to have a specific business idea to join; the programme provides and insight into starting a business whilst allowing participants to work towards achieving a qualification.
On successful completion of the CCEA accredited training course participants will be awarded a Level 1 in Understanding Business Enterprise. In addition the programme will guide and assist individuals into and through the mainstream business support options.
Eligibility:
You must be unemployed, part-time employed or in part-time training
Must be over 16
Must be able to commit to training
Benefits:
Completely FREE
Gain a qualification – QCF Level 1 in Understanding Business Enterprise (CCEA)
Meet new people
Gain skills to enter Self-Employment / Employment
Training Dates:
October 5th 2016
October 7th 2016
October 12th 2016
October 14th 2016
October 19th 2016
October 21st 2016
Need more information?
For further information and to register your interest contact Shauna on shauna@cookstownenterprise.com or by phone on 028 86763660.
  Workspace Enterprises are delivering the Mid Ulster Social Enterprise Programme on behalf of Mid Ulster Council.
This programme has been developed to assist community and voluntary groups look at the potential which exists to develop new social enterprises or to grow their existing social enterprises. It will provide support in 2 areas, mentoring for groups that have an idea to set up a new social enterprise under "Emerging Social Enterprises" and mentoring and support for existing groups and social enterprises under "Existing Social Enterprises".
This programme is now open for applications but is due to close next Wednesday on 27th July 2016. I am attaching the application forms for both streams of the programme to this email but if you would like to contact me to discuss your idea or application in more detail, please contact me and I will try my best to help. Please note that this programme could provide support to develop a business plan / application for funders such as Mid Ulster Rural Development Partnership, Space and Place and the Big Lottery.
If you are interested in applying for this programme, please contact Workspace
Tel: 028 7962 8113 | Fax: 028 7962 8975
Email:michelle@theworkspacegroup.org | Web: www.theworkspacegroup.org
Please note that Cookstown Enterprise Centre will be closed from Monday July 11th until Monday July 18th. We will reply to all correspondence on our return.


New Mid Ulster Business Development Programme Launched
A new programme, funded by Mid Ulster District Council and delivered by Cookstown Enterprise Centre, is offering up to 20 local businesses the opportunity to accelerate their growth and competitiveness.
The Business Development Programme, part of the Council's overall economic development strategy, is now open for applications from micro and small Mid Ulster-based businesses which would like to benefit from a diagnostic audit, followed by up to 3.5 days' one-to-one consultancy support worth over £1,000. This support can comprise one or a mix of core business areas, including the development of business plans to Invest NI standard to effective pricing, implementation of quality standards, sales and marketing, human resource and financial management.
Speaking about the programme, Chair of the Council's Development Committee, Councillor Frances Burton, said:
"The micro and small business sector is a vital part of our local economy and it is crucial that even the smallest businesses have the opportunity to access professional business support and capitalise on business development opportunities to enhance their future competitiveness.
"This is exactly what this programme aims to do, by ensuring knowledge and resources are within the grasp of small businesses and I would encourage those which are eligible to take advantage of the opportunity currently on offer".
To be eligible to apply, businesses must be located in the Mid Ulster District Council area and not eligible to receive similar assistance from elsewhere. Applicants should note this is a competitive application process and demand is expected to be high.
For further information and to request an application form for the Mid Ulster Business Development Programme, please contact Cookstown Enterprise Centre on 028 8676 3660 or email: andrea@cookstownenterprise.com.
Completed application forms must be returned by 4pm Friday 10 June 2016.