Members & Trustees
Cookstown Enterprise is overseen by and experienced committee: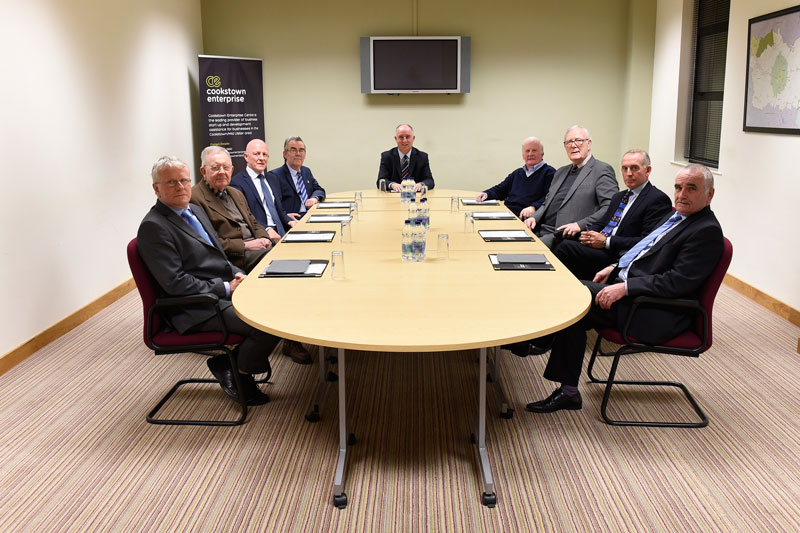 Chairman – Trevor Wilson
A manager with the locally based  Lafarge Cement manufacturing company, Trevor is also an elected representative of Mid Ulster Council and a member of its Development committee.
Trevor has been a board member since 1991 and has extensive knowledge of the organisation and its objectives as well as bringing valuable local knowledge through the many networks with which he is associated.
In his second term as chair he continues to promote Cookstown Enterprise as a model of good practice within the Northern Ireland small business support network.
---
Vice Chairman – Michael McGuckin
Former Chief Executive of Cookstown District Council and has over twenty years' experience of serving on the Cookstown Enterprise board.
Michael has vast experience of local government affairs as well as successfully managing a large and complex local government organisation.
He has a good awareness of local economic development issues and the needs of small businesses throughout Northern Ireland. He has a sound knowledge of corporate governance legislation as well as human resources requirements.
---
Directors
Dennis Legge
Retired senior official of DARD in Northern Ireland where he was head of the Food Technology division of CAFRE based at the Loughry campus in Cookstown.
Dennis has been a director of CEC for approximately 20 years and he is a former Chairman of the Board who brings valuable skills and experience particularly in strategic development and corporate governance.
---
Stanley Best
For in excess of 35 years he has been successfully operating a large family owned estate agency business based in Cookstown.
Another founder member and director of the company who brings valuable skills experience and local knowledge of both the commercial and residential property markets across Mid Ulster.
As required he sits on the Property Subcommittee to assess property development opportunities. His company also provides specialist property consultancy services as and when deemed necessary by the board.
---
Peter Cassidy
Former local district Councillor with Cookstown District Council. Long term member of the local SDLP party and has been a director of CEC for approximately 15 years.
Peter specialises in representing clients at medical and industrial tribunals and he has acquired a great depth of knowledge in employment law and related subjects which he volunteers to the board of CEC.
---
Michael Foley
Retired Bank of Ireland senior manager who brings a vast knowledge of financial matters.
Michael is also a former chairman of the CEC board and has been a director since the company was incorporated twenty five years ago. His knowledge and experience is greatly respected by his fellow directors.
---
Elizabeth (Liz) Kearns
Liz has an Honours Degree in Business Studies as well as a Post Graduate Diploma in Human Resources Management.
She has 30 years' experience in HR Management which commenced in retail and progressed to the manufacturing industry within in both small and larger organisations. Liz left her position as Human Resources Manager at Emerson, Cookstown in June 2020 and joined the Board of Cookstown Enterprise Centre in May 2021.
Among her key skills are business planning, people engagement and development, health and wellbeing and implementing continuous improvement initiatives.
---
Company Advisor
David Lyttle
Senior partner in his firm of Chartered Accountants & Registered Auditors which has offices in Cookstown, Magherafelt and Carryduff. While David is not a director of CEC he regularly attends board meetings to provide advice on financial matters.
His company, David Lyttle & Co, has been providing financial accounting and auditing services to Cookstown Enterprise Centre Ltd since 1993. The board greatly values David's advice on all business matters including property investment and company development
---