Secure Storage
Boxed & Locked" is a Secure Storage Unit Solution from Cookstown Enterprise Centre. Our Storage Units are suitable for both household self storage and business self storage and are located in Derryloran Industrial Estate, Cookstown.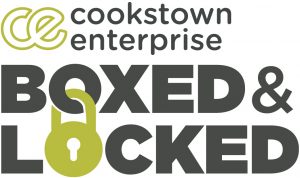 Benefits of our Secure Storage Units
Our storage units are available on a flexible rental agreement (minimum rental 2 months).
Access to our secure units is available 24 hours a day, 7 days a week via electronically operated gates.
All our units have Insurance approved 7 pin action multi-lock systems.
All Boxed & Locked units are suitable for racking with Insulated walls and ceilings for guaranteed dry storage.
Inside you will find each storage unit is Galvanisied, underlined with an insulated steel floor. The doors have a rubber seal to ensure the unit is air sealed.
More specifications:
Personal Lock Up
Lighting & plug socket pack provided (2 No Fluorescent lights)
Galvinised, underlined & insulated steel floor
Insulated with 35mm high density polystyrene, lined with 12mm PVC wrapped plasterboard
1 set of vault doors on gable
Water & Vermin proof
CCTV in operation
Well maintained yard with flood lights
Central Location
Good Vehicular Access
Sizes currently available
There are currently 2 sizes of Secure Storage units available:
20ftx8ftx8ft
10ftx8ftx8ft
Potential Usage for the Boxed & Locked storage units at Cookstown Enterprise Centre:
The storage units can be used for both Residential/Household storage and Business/Commercial storage.
Here are some ideas for how the units can be used:
Boxed and Locked is ideal for home use:
Moving house or downsizing
Clearing out the garage, loft or spare room
A place to put the summer garden furniture
Temporary storage whilst carrying out work to your house or decorating
Home from college and need somewhere cheap to store your belongings
Or just a place to put those things you can't bear to part with
Boxed and Locked is ideal for Business use:
Archives
Excess Stock
Building Materials
Tools
Freeing up space in your workplace
Distribution points
Marketing and display materials