Mid Ulster Enterprise Week
Mid Ulster Enterprise Week returns this year from Monday 13 – Friday 17 November 2023 with a programme of 11 in-person and online events to help local businesses 'Challenge, Adapt, Succeed'!
Chair of the Council, Councillor Dominic Molloy said, "Our successful and popular Mid Ulster Enterprise Week returns for its fifth year this year. Over these last five years local businesses have relied on the week to provide them with timely advice, up-to-date information and sound direction for the future.
"This year's very apt theme of 'Challenge, Adapt, Succeed' will resonate with the local business community as it reflects the resilience and prosperity of our local businesses in the face of today's ever-changing economic climate."
Date/Time

Enterprise Week Webinar

Monday 13 November 
9.50am – 11am
(Refreshments and Breakfast served from 9.30am)
The Burnavon, Cookstown

AI Uncovered: The impact of
Artificial Intelligence on Business
Join Paul Clark, UTV, and guests at 'AI Uncovered', an enlightening panel discussion featuring AI experts Jason Bell (The AI Provocateur) and Naomh McElhatton (dara&co); who will unravel the mysteries of
Artificial Intelligence and its profound impact
on local businesses.Elaine Donaghy McCrory, Terex's Global Marketing Manager will also share how the company is being impacted.This event is your gateway to understanding
the transformative power of this cutting-edge
technology.Register online for AI Uncovered: The impact of Artificial Intelligence on Business
Monday 13 November 
1.30pm – 2.30pm
Virtual
Lights! Camera! Action!
Unlock the Power of Video for your Business Facilitated by Niamh MacAuley, Purple Dot Media.
In today's digital age, video has become the
undisputed king of content. Join video content creator Niamh MacAuley, Purple Dot Media, for a practical masterclass, where you'll dive deep into the world of video marketing and acquire the skills needed to create captivating videos and also boost your confidence on camera.This masterclass is designed for business
owners and entrepreneurs eager to harness
the potential of video marketing. Whether
you're just starting your video journey or looking to refine existing skills, this event offers a roadmap to success.Register online for Lights! Camera! Action!
Unlock the Power of Video for your Business
Tuesday 14 November
10am – 12pm
(Refreshments and Breakfast served from 9.30am)
Seamus Heaney HomePlace, Bellaghy

Employment Matters                                              Janis Simpson-Mahoney, Managing Director
of Global Education (NI) Ltd, has many years'
experience working with organisations to help them to improve their employment processes.Janis has worked with Pizza Hut, EuroStar,
Corporation of London and has recently
delivered the Mid Ulster District Council
Transform Programme which was delivered
to improve the employment processes of
businesses based in Mid Ulster.This workshop has been designed to support businesses who are struggling to recruit and retain staff and who wish to identify ways in which they can increase the attractiveness of their businesses to the labour market.Register online for Employment Matters

Tuesday 14 November
10am – 11am
Virtual

Leading the Way: Self Leadership
and Business ResilienceFacilitated by Enda McNulty, McNulty Performance.
Enda McNulty, Elite Performance Coach and
Best-Selling Published Author, coaches some
of the leading companies in the world including, Microsoft, Facebook, & Intel. Enda will prompt you to stop and think and to reflect on how well you are leading in all aspects of your business life.This webinar is facilitated by Yvonne Mitchell, founder of Out of the Box Consulting, who has worked for over 20 years in global organisations, including Microsoft, where she was Chief of Staff. First 10 attendees will receive a signed copy of Enda's newest book, Commit 2 Lead!Register online for Leading the Way: Self Leadership and Business Resilience

Tuesday 14 November 
1pm – 5pm
The Junction, Dungannon
*Registration charge applies – this event only.

Meet the Experts
Join us for an exclusive opportunity to connect with over 40 experts across business
sectors, all under one roof. Whether you're a
budding entrepreneur or an established small
business owner, this event is your gateway
to personalised solutions and insights.From export and energy experts to marketing and finance gurus, the experts will help you tackle business challenges head on. Register online for Meet the Experts

Wednesday 15 November 
10am – 11am
Virtual

Powerful Tourism

Facilitated by Tina O'Dwyer, The Tourism Space and Ryan Donnelly, Letteran Lodges.
Discover the power of sustainable tourism.
Founder of The Tourism Space, Tina O'Dwyer
specialises in sustainable tourism, regenerative approaches to tourism, food tourism, tourism networks and destination collaboration. This webinar will help you better understand sustainable and regenerative tourism and the power it has to transform the tourism industry.

Founder of Letteran Lodges, Ryan Donnelly,
will join Tina. Ryan will speak about how he
has created a luxury haven for guests on our
doorstep to enjoy the beauty of the stunning
Slieve Gallion mountains.

Wednesday 15 November 
1.30pm – 2.30pm
Virtual

InstaGrowth: Mastering Instagram

Facilitated by Cara Jackson, Digital 24.
Looking to enhance your Instagram game? Join Cara Jackson, the Social Media and Content Lead at Digital 24, an award-winning digital marketing agency. With years of experience and successful partnerships with clients such as Dale Farm, Shnuggle, and Babocush, Cara has consistently delivered impressive results.

Designed specifically for small businesses, this session will be packaged with practical insights and will explore how you can use Instagram to grow your brand.

Wednesday 15 November
7pm – 9pm
*Invite only
Glenavon House Hotel

Mid Ulster LMP Celebration

Mid Ulster Labour Market Partnership (LMP)
will recognise and celebrate the achievements of participants who have completed employment academies or programmes, as well as the local businesses and support agencies who have assisted individuals with their journey back into meaningful employment.

Through the various programmes, participants have gained accredited qualifications as well as receiving employability support and mentoring, with many returning to the labour market as a result. Others have continued their journey by re-entering education to gain additional skills before seeking employment.

During the event, participants will speak about the benefits of taking part in the programmes and the change to their daily lives.

Thursday 16 November 
9.50am – 11am
(Refreshments and Breakfast served from 9.30am)
The Burnavon, Cookstown

Trailblazers

Prepare to be inspired, educated, and
empowered at 'Trailblazers', an extraordinary
event tailored for women who are ready
to level up. Hosted by Annette Kelly, Little
Penny Thoughts, Trailblazers promises a
morning of networking and an insightful panel discussion featuring remarkable women and role models who have blazed their own trails.

Sandra Quinn (Outsource Group), Grainne Bannon (ShareIt.biz) and Eve Beattie (Fuss Free Funnels) have founded successful businesses, grew organisations and continually honed their skills along the way. You will come away from this event with a renewed sense of purpose and passion for
your own ventures.

Thursday 16 November 
10am – 1pm
(Refreshments & Breakfast served)
The Junction, Dungannon
Operational Excellence Workshops

Do you want practical advice and guidance on how to improve processes, reduce waste, implement change, and improve employee engagement to improve your business productivity? Invest Northern Ireland, in partnership with Mid Ulster District Council, is delivering this as part of a series of 5 Operational Excellence workshops.

The workshops will be delivered over 5 consecutive Thursdays and include opportunities for one-to-one mentoring sessions.

Thursday 16 November
1.30pm  – 2.30pm
Virtual

Influencer Magic

Facilitated by Francesca Morelli, VAVA Influence.
Let VAVA Influence's Francesca Morelli help
you understand why influencer marketing
is a MUST for small businesses. Francesca
connects influencers to businesses across NI, ROI, and UK for marketing and promotional purposes. She is one of the founders of The VAVA Club, NI's first TikTok House, and The VAVA Awards, NI's first exclusive Influencer Awards.

Learn how to find the perfect influencers for your brand and hear real-life success stories.
Learn from the best and stay ahead of the
competition.

Friday 17 November 

If you attend any of our events, your name will
automatically go forward into a prize draw with the opportunity to win some great prizes. The more events you attend, the more opportunity you have of winning a prize! Winners will be announced on Friday 17 November 2023.
NI Enterprise Barometer 2023 is LIVE –  Your Voice Matters.  Influence the future of your business? 🚀 Participate in the NI Enterprise Barometer 2023
The annual NI Enterprise Barometer provides an invaluable opportunity for entrepreneurs and business owners to share their insights and experiences. As a locally connected business of Cookstown Enterprise Centre your input is critical in helping us understand the challenges and opportunities that shape the landscape for micro and small businesses.
By participating in this survey, you're actively informing policy and shaping future strategy that will address the distinctive needs of local micro and small businesses like yours and will contribute to nurturing the entrepreneurs of tomorrow.
Survey completion time is approximately 5 – 10 minutes. On completion, you could be in with the chance of winning £250 worth of tech vouchers.
To complete the survey, click here: www.surveymonkey.co.uk/r/PD39XJ7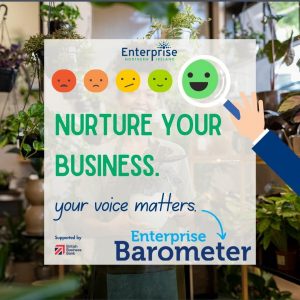 Tourism Northern Ireland is hosting Experience Development Roadshows for tourism businesses that are developing or delivering saleable, bookable visitor experiences within the context of the tourism brand 'Northern Ireland – Embrace a Giant Spirit'.
The free-to-attend, in-person sessions will take place in tourism and hospitality venues across Northern Ireland and will cover methods of engagement with the Embrace a Giant Spirit brand and the opportunities available to your business within the new Experience Development Framework.
Date: Wednesday 11 October 2023
Time: 10am – 2pm
Location: HMS Caroline, Belfast, BT3 9DT
Cost: Free
Registration -Tourism Experience Development Roadshow
Invest NI – Ambition to Grow Programme
Ambition to Grow, Invest NI's exciting regionally focused competition aimed at innovative, ambitious businesses will open for applications at 12noon on Monday 22 May 2023.
Successful applicants will be eligible to apply for funding up to a maximum of £45,000.
The programme is designed specifically to help small, micro, and medium sized local enterprises that are not currently engaged with Invest NI.
Eligible businesses must:
have the ambition to grow
be ambitious, innovative businesses with the ambition to grow sales.
have a product or service with a strong USP to take to markets outside Northern Ireland
are a start-up or an established company that has not worked with Invest NI before
need government support to create great jobs and to sell innovative products or services outside Northern Ireland
Invest NI's Regional Offices will be hosting Drop-In Clinics highlighting the Programme and other support available from the organisation.
The application call for Ambition to Grow will close Friday 16 June, 15:00.
Further information can be found at https://www.investni.com/support-for-business/ambition-to-grow
EASTER HOLIDAYS
Please note our office is closed Monday 10th & Tuesday 11th April 2023.
Re-opening 
Wednesday 12th April 2023. 
Happy Easter from all at CEC!
   
From 1 April 2023 the minimum amount you can pay your employees has changed.
See the table below that shows the current minimum wage rates:
| Age | Minimum Wage Rates from 1 April 2023 |
| --- | --- |
| 23 years old and over | £10.42 |
| 21-22 years old | £10.18 |
| 18-20 years old | £7.49 |
| 16-17 years old | £5.28 |
| Apprentices | £5.28* |
*Apprentices under the age of 19 years old or aged 19 years old or over and in the first year of their apprenticeship are entitled to a minimum hourly rate of £5.28 per hour (this rate does not apply to Higher Level Apprenticeships).
Apprentices are entitled to the minimum wage for their age if they are aged 19 years or over and have completed the first year of their apprenticeship.
The National Minimum Wage and the National Living Wage in the UK apply to workers in Northern Ireland. These minimum wage rates are the hourly rate that workers should be paid by their employers depending on their age or whether they are an apprentice.
National Minimum Wage and National Living Wage rates change every April. The current minimum wage rates are in effect from 1 April 2023 to 31 March 2024.
This year there will be an additional bank holiday for the King's Coronation which takes place on Saturday 6th May 2023 with the additional one-off bank holiday on Monday 8 May 2023.
The full list of expected dates and days of Northern Ireland bank and public holidays for 2023 are listed below.
Bank and public holiday dates for Northern Ireland in 2023
| Holiday | 2023 |
| --- | --- |
| New Year's Day | 2 January |
| St Patrick's Day | 17 March |
| Good Friday | 7 April |
| Easter Monday | 10 April |
| Early May Bank Holiday | 1 May |
| Bank holiday for the coronation of King Charles III | 8 May |
| Spring Bank Holiday | 29 May |
| Battle of the Boyne / Orangemen's Day | 12 July |
| Summer Bank Holiday | 28 August |
| Christmas Day | 25 December |
| Boxing Day | 26 December |
Source: NI Direct.
British Summer Time
British Summer Time (BST) starts on the last Sunday in March and ends on the last Sunday in October, at 1.00 am Greenwich Mean Time (GMT).
| BST | 2023 |
| --- | --- |
| Clocks go forward | 26 March |
| Clocks go back | 29 October |
Cookstown Enterprise will be closed for the Christmas Holidays from Friday 22nd December 2022, and will reopen on Tuesday 3rd January 2023.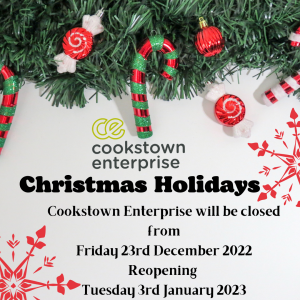 We would like to take this opportunity to wish you a very Merry Christmas, and a happy, safe and successful 2023.
Cookstown Enterprise Centre recently made its annual Christmas donation to two locally based charities.
This year Cookstown Enterprise donated £250 to SVP Cookstown and £250 to The Hub Cookstown. This was in lieu of sending Christmas cards.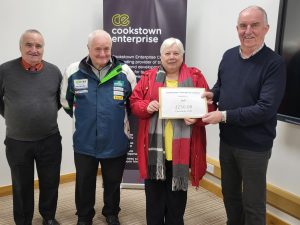 On behalf of the Board of Directors, Trevor Wilson Chairman and Peter Cassidy Director of Cookstown Enterprise Centre present a £250 cheque donation to  Anne Coney &  Sean Kelly of SVP Cookstown.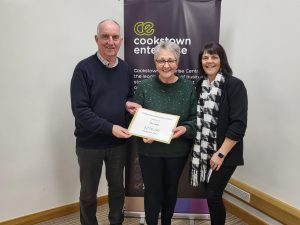 On behalf of the Board of Directors, Trevor Wilson Chairman and Liz Kearns Director of Cookstown Enterprise Centre present a £250 cheque donation to Carol Doey of the The Hub Cookstown Cookstown.
                 We are all about SPACE
SPACE for businesses to work better, grow their venture, collaborate and lead the next big thing.
Meeting SPACE – When you require a private and professional environment our meeting space comprises comfortable, air conditioned rooms which can can be set up to your specific requirements.
Conference SPACE – From round table to theatre style our modern, comfortable conference suites which can accommodate up to forty people, are equipped with high specification interactive audio-visual technology and video conferencing equipment. Rooms are available for rent daily, evenings or weekends by businesses, community and voluntary organizations, tenant companies and the public at competitive rates.
Office SPACE – A diverse range of business office accommodation in sizes from 200 to 1500 square feet are available in our Derryloran Industrial Estate headquarters as well as our William Street town centre hub.
Industrial SPACE – Our multiple sites in Derryloran Industrial Estate provide industrial and small factory premises to accommodate start-up and growth businesses in a size range from 750 to 6,000 square feet.
Secure SPACE – "Boxed & Locked" is a Secure Storage Unit Solution suitable for both household self-storage and business self-storage located in Derryloran Industrial Estate.
Retail SPACE – Small to medium sized starter and growth retail units are available to rent in Cookstown town centre. These competitively priced shop units provide start-up and growth retailers with a town centre presence at affordable rents and rates.
Residential SPACE – To contribute to the regeneration of Cookstown town centre, Cookstown Enterprise Centre has invested in centrally located and affordable residential apartment accommodation
Flexi SPACE – The most recent addition to our SPACE options is our Flexi-Space facility comprising co-working desks, individual workstations, and private offices in our stunning new open plan 'Working Near Home' facility. Daily, weekly, and monthly rental packages are available at rates as flexible as the space through our user-friendly online booking, payment, and door access system. For more information on flexispace visit flexispace.cookstownenterprise.com/
Contact :
Cookstown Enterprise Centre, Derryloran Industrial Estate, Sandholes Road, Cookstown, Co. Tyrone BT80 9LU
Tel: 028 8676 3660
Email: info@cookstownenterprise.com