Applications open for Exploring Enterprise 3 Programme
Monday September 5th 2016
We are now recruiting for Exploring Enterprise 3 Programme.
This is a pre-start programme which will support activities to extend the employment opportunities of unemployed, long-term unemployed and inactive people by helping them to enter, remain and make progress in sustained employment.
There will be a focus on people with disabilities and health conditions, lone parents, older workers, young people not in education employment or training, women and people with low or no qualifications.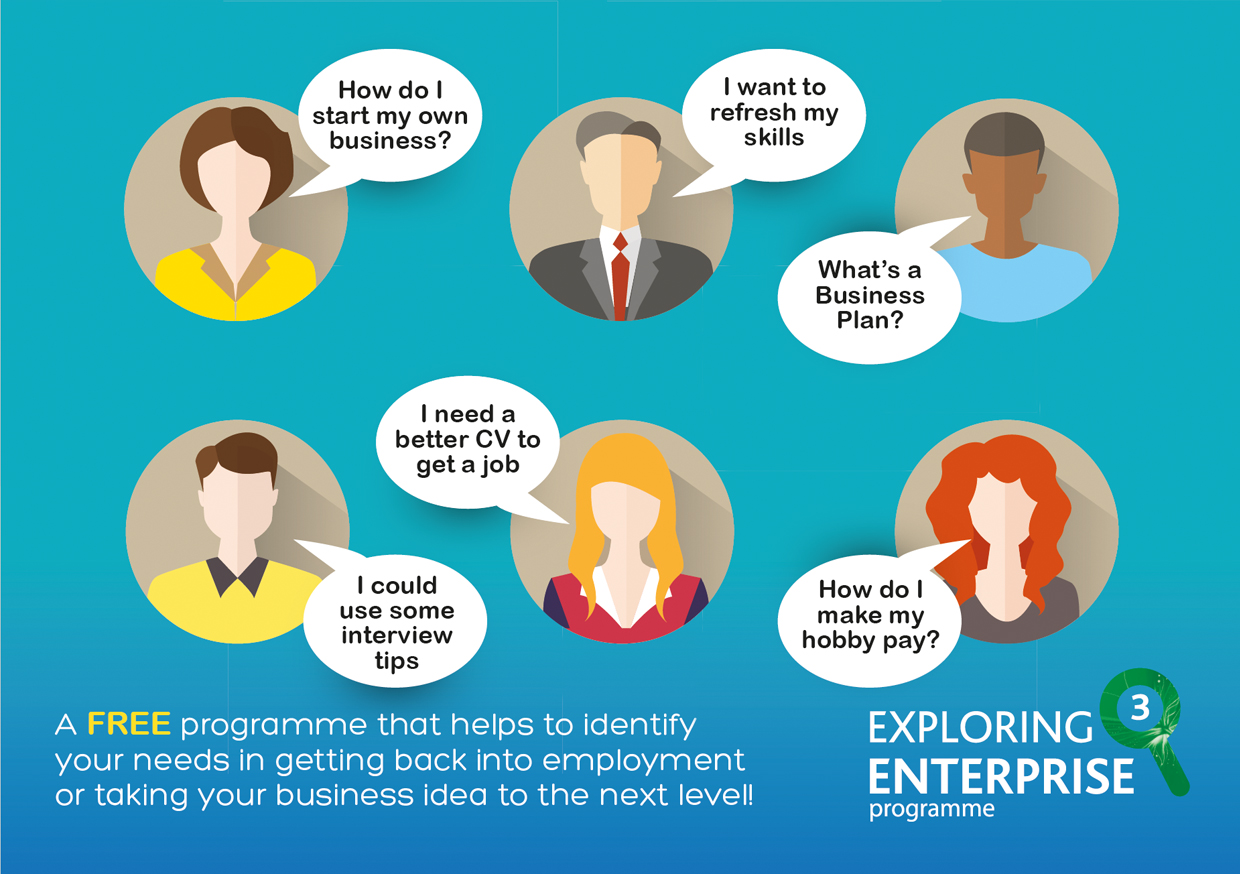 Ultimately, EEP3 is designed to fill a gap in the provision of enterprise support by addressing the needs of people who are not yet ready to progress to self-employment ad operates as a mechanism to develop a latent pool of entrepreneurship talent within NI's most deprived communities / groups.
We will provide accredited training and development to participants through the network of Local Enterprise Agencies. Participants do not need to have a specific business idea to join; the programme provides and insight into starting a business whilst allowing participants to work towards achieving a qualification.
On successful completion of the CCEA accredited training course participants will be awarded a Level 1 in Understanding Business Enterprise. In addition the programme will guide and assist individuals into and through the mainstream business support options.
Eligibility:
You must be unemployed, part-time employed or in part-time training
Must be over 16
Must be able to commit to training
Benefits:
Completely FREE
Gain a qualification – QCF Level 1 in Understanding Business Enterprise (CCEA)
Meet new people
Gain skills to enter Self-Employment / Employment
Training Dates:
October 5th 2016
October 7th 2016
October 12th 2016
October 14th 2016
October 19th 2016
October 21st 2016
Need more information?
For further information and to register your interest contact Shauna on shauna@cookstownenterprise.com or by phone on 028 86763660.
Latest posts
September 20th, 2023
August 25th, 2023
May 19th, 2023