Celebrations mark 25 years
Friday May 19th 2017
On Tuesday 16th May 2017 Cookstown Enterprise, in the company of 130 invited guests representing the business community and the business support network throughout Mid Ulster and beyond, celebrated its 25th birthday.
The celebration was branded 'Recipe for Success' which reflected on the organizations establishment and progress over the last quarter of a century.
A light-hearted 'Recipe Quiz' in which all guests were invited to participate provided useful and relevant information about some of the company's main achievements throughout that time.
Finally, a discussion panel comprising local representatives from the business, public and community and voluntary sectors debated and answered a range of questions for future business success posed by associates of the Cookstown Enterprise on pre-recorded video footage.
The celebration concluded with a surprise presentation by CEC Chairman, Mr Trevor Wilson, to Mary Monaghan for achieving the milestone of 25 years unbroken dedicated and loyal service to the company. Mary was the first employee and commenced her employment with the company as an administrative assistant on the 19th May 1992. She currently holds the position of Property Manager.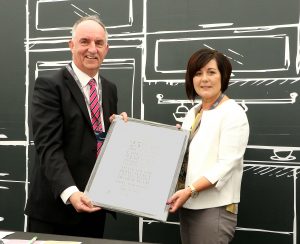 Mary being presented with a token of appreciation from Chairman Trevor Wilson.
Latest posts
September 20th, 2023
August 25th, 2023
May 19th, 2023