Exploring Enterprise 3 Programme
Friday December 18th 2015
Following the success of previous courses delivered under the Exploring Enterprise Programme the current programme is now partly completed.  The course enables those who are unemployed or economically inactive to develop skills to enhance their individual chances of securing employment or entering self-employment. The accredited programme will also provide participants with a Level 1 Qualification in Understanding Business Enterprise.
For the current participants the second part of the programme will commence on the follow dates:
The Opportunity Workshop                                 Wednesday 6th January 2016
Resource & Team Workshop                                Wednesday 13th January 2016
Presenting a Business Idea Workshop               Wednesday 20th January 2016
This project is part funded through the Northern Ireland European Social Fund 2014-2020 Investment for Jobs and Growth Programme, the Department for Employment & Learning, Enterprise Northern Ireland, the Local Enterprise Agencies and Mid Ulster District Council.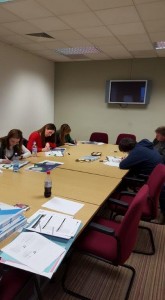 EEP3 participants working hard.
Latest posts
October 20th, 2023
September 20th, 2023
August 25th, 2023