NI Enterprise Barometer 2023 is LIVE – Your Voice Matters.
Wednesday September 20th 2023
NI Enterprise Barometer 2023 is LIVE –  Your Voice Matters.  Influence the future of your business? 🚀 Participate in the NI Enterprise Barometer 2023
The annual NI Enterprise Barometer provides an invaluable opportunity for entrepreneurs and business owners to share their insights and experiences. As a locally connected business of Cookstown Enterprise Centre your input is critical in helping us understand the challenges and opportunities that shape the landscape for micro and small businesses.
By participating in this survey, you're actively informing policy and shaping future strategy that will address the distinctive needs of local micro and small businesses like yours and will contribute to nurturing the entrepreneurs of tomorrow.
Survey completion time is approximately 5 – 10 minutes. On completion, you could be in with the chance of winning £250 worth of tech vouchers.
To complete the survey, click here: www.surveymonkey.co.uk/r/PD39XJ7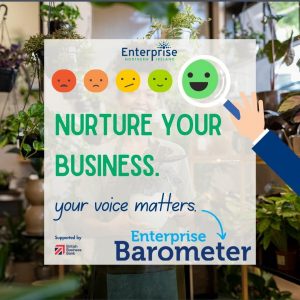 Latest posts
October 20th, 2023
September 20th, 2023
August 25th, 2023